If your Outlook data file is corrupted and unable to open in the new profile, use this article to recover emails form the corrupted .pst and.ost data files.

Microsoft provides the scanpst and scanost to diagnose and repair errors in the .pst and .ost files. Sometimes, scanpst/scanost may report no errors in the file, but Outlook still can't open the data file.

Try running scanpst/scanost repeating 3-4 times until neither program returns an error. However, if your .pst/.ost file is really broken, scanpst/scanost may loose too much data during the recovery. Please note the scanpst/scanost is not able to recover deleted messages, because this is not an error.

If scanpst/scanost is not capable to correct the problem with the data file, follow the steps below to extract the email messages from the damaged .pst or .ost data files.
Repair corrupted Outlook Data Files (.pst and .ost)
Follow these steps to extract the email messages from corrupted .pst and .ost files using PST Walker recovery tool.

1. Close the Microsoft Outlook and other applications that may use your mailbox

2. Download , install and run PST Walker recovery tool

3. Select the .pst or .ost file to open

4. Preview all your items including messages, contacts, appointments, tasks, notes, and journal entries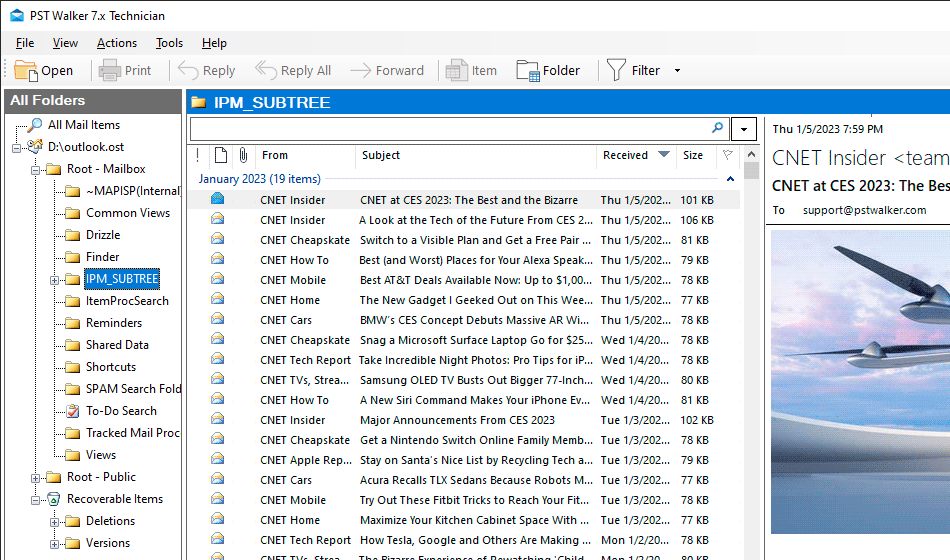 5. With "Export" under File menu you can extract the email messages