Recover Deleted Emails and Folders in Microsoft Outlook
Learn how to recover permanently deleted emails, contacts and folders in Microsoft Outlook. Follow the steps below to recover email messages deleted by mistake in your Outlook profile. This will recover as many deleted email messages as possible. If you don't see the deleted messages that you wanted, it means they are permanently lost.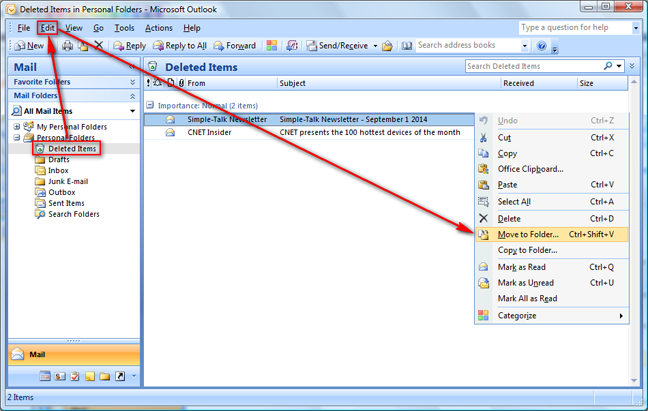 How Outlook's Deleted Items folder works
When you delete folder, emails, contacts or other items from a folder in a mailbox, the items first are moved to the Deleted Items folder in the mailbox. This functionality is called a "soft delete" and protects you from accidentally deleting an item. If you permanently delete items without first moving them to the Deleted Items folder this procedure is called a "hard delete". You may be able to recover these messages under very specific conditions.
Messages are hard deleted in the following scenarios:
You delete an item from the Deleted Items folder or Empty the Deleted Items folder
You press SHIFT+DELETE to delete a message or a folder
You are using an Internet Message Access Protocol 4 (IMAP4) client or another type of client that does not first move the message to the Deleted Items folder
Recover permanently deleted emails and folders
You may be able to recover the deleted message using PST Walker email recovery tool. To recover permanently deleted emails and folders, follow these steps:
1. Close the Microsoft Outlook and other applications that may use your mailbox
2.
Download
, Install and run PST Walker email recovery
3. Open the Outlook (.pst) or Exchange mailbox (.ost) with PST Walker
4. Check "Find "hard deleted" and "orphaned" items " checkbox
5. After the recover process, select "All Hard Deleted Items" folder in the "All Folders" pane
*Please note when you accidentally delete a folder in the Outlook, it's first move the emails from this folder to the Deleted Items folder, and then delete the folder and the moved emails in the Deleted Items folder.
6. Click "File"->"Export" to save recovered deleted emails and folders
In order to recover deleted emails from Outlook or Exchange mailbox you have to be fast. If you delete an item it's marked as deleted and the space it occupies is marked as 'reusable'. And as long as the space isn't reused for another item, the information can be recovered. If you received any new email or perform some actions with your mailbox, the loss of your deleted emails may be permanent.