The normal Thunderbird import process requires that you have a compatible version of Outlook installed on your computer. To import emails from Outlook to Thunderbird, Outlook must be set as your Default email client. If you don't have Outlook installed, there are alternatives listed below. If you are looking for a solution to convert pst to mbox, ost to mbox and migrate from Outlook to Thunderbird, please follow these steps to import pst to Thunderbird.
Thunderbird Import Wizard
Thunderbird Import Wizard for Outlook was disabled in Thunderbird version 38 because it broke. This was fixed in Thunderbird version 58. If it crashes again, you can work around this by temporarily using an older version of Thunderbird, import your data, and then update Thunderbird to the latest version.
In Thunderbird, go to

Tools > Import…

.
Choose Mail and click

Next

.
Choose Outlook as the file type and click

Next

.
Wait for the import to finish and click

Finish

.
Outlook is not installed
An alternative to Thunderbird's Import Wizard is to find a tool to transform your data to mbox format (.mbx), and then copy mbox files into Thunderbird Local Folders. One such mbox conversion tool for Outlook is PST to MBOX Converter.
Convert Outlook to Thunderbird
If you have data issues or crashes with Thunderbird Import Wizard for Outlook, or if you need to convert selected emails from Outlook to mbox, there are steps to import .pst and .ost files into Thunderbird.
1. Find your local .pst and .ost files
Outlook saves .pst and .ost files in a variety of different locations. Depending on what type of account you have, see the locations for Outlook 2007, Outlook 2010, and Outlook 2013, 2016 for example.
2. Open your .pst and .ost files
Download, launch the software and browse for the PST and OST files. You will probably have several data files that need to be imported into Thunderbird.
3. Convert your emails to mbox or eml format
Select mailbox root folder in All folders pane, and click File > Export. Choose MBOX file format and click Ok.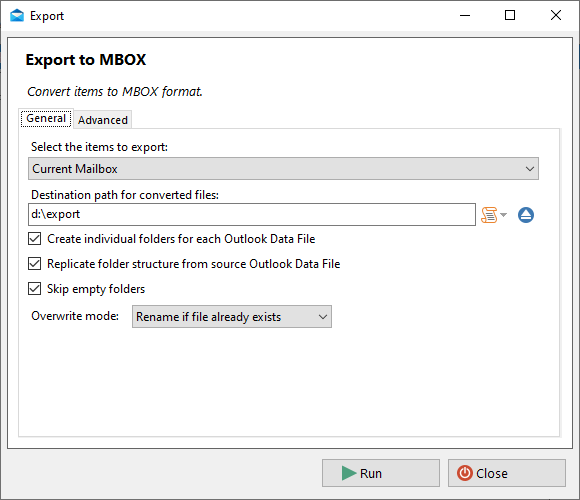 4. Find your Thunderbird "Local Folders" Directory
Launch Thunderbird. Right click on "Local Folders" and select "Settings". Now you can see "Local directory" for your "Account Settings".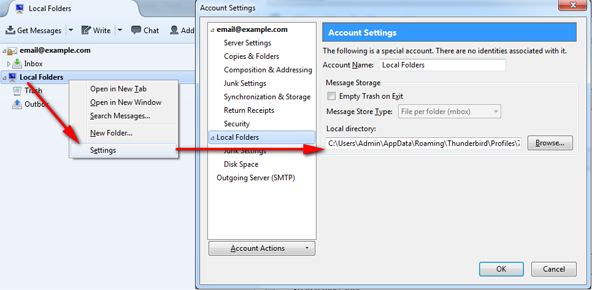 Something like this:
C:\Users\%username%\AppData\Roaming\Thunderbird\Profiles\7l36jvtj.default\Mail\Local Folders
(You need to have allowed "Show hidden files, folders, and drives)

5. Copy mbox files into Local Folders
Quit Thunderbird. Navigate to your "Local Folders" directory in an explorer and drag and drop your mbox files in there.
6. Browse mbox
Restart Thunderbird, and you should see the mailbox in your Local Folders list.